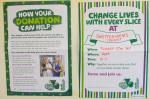 On 30th September 2016 Swettenham Chemists supported the world's biggest coffee morningand our wonderful customers donated a total of £1,392.49 whihc was matched by Swettenham Chemists to reach a staggering total of £2,784.98 .
A massive, massive thank you to our staff for taking part and for making the cakes even more delicious than the Great British Bake off. But of course an even bigger thank you to our generous customers for your donations of £1,392.59 and for supporting
Macmillan Cancer Support
.
The World's Biggest Coffee Morning is Macmillan's biggest fundraising event for people facing cancer. They ask people all over the UK to host their own Coffee Mornings and donations on the day are made to Macmillan. Last year alone they raised £25 million and this year they are aiming to raise even more.
How did it all begin?
The first ever Coffee Morning happened way back in 1990. It was a rather small affair with a simple idea: guests would gather over coffee and donate the cost of their cuppa to Macmillan in the process. It was so effective, they did it again the next year – only this time nationally. Since then, Coffee Morning has raised over £138 million for Macmillan.
Macmillan palliative care nurses provide advice and support with pain and symptom management for people with palliative care needs through to end of life care. They support the person with cancer, their family, and the nurses and doctors who are looking after them.